I've been Trying to Figure out How to Address This Week's Post…
This past week in Moncton, NB – where I live and where my children go to school and learn about life and reality and all of the ways of the world – something impossible happened.
I have been mulling over this dilemma for a few days: do I write about the tragedy my town is sifting through today, or do I pretend it didn't happen and just keep going with what I had planned to write about? I decided that there is an important lesson in this for all of us, and that I need to write about it – if for no other reason than catharsis.
So bear with me, while I lay bare my heart a little bit.
I won't delve fully into the details of the actual incident here in Moncton, because I just can't anymore. We've been steeping ourselves in the details since our city went on a literal lockdown on Wednesday night, to protect our residents and to facilitate a massive manhunt after the plotted, shocking and heart-rending murder of three RCMP (Royal Canadian Mounted Police) officers, and the attempted murder of two others – by a heavily armed gunman.
We as a community knew nothing, but the fact that we needed to know more. We were shocked first – "This is Canada!" – and then we were numb and simply trying to make sense of life during the lockdown. Some of the people in our community learned what it is like to be in a militarized zone – suddenly deprived of freedom and safety, while the rest of us sat helplessly offering to house friends or family who were unable to reach their home inside the lockdown zone – and we waited.
After roughly 28 hours, and an influx of support from all over our Country, our tiny "sleepy" city breathed a collective sigh of relief, when the manhunt ended. People made their way home, and we began to try to make sense of it.
How do we talk about this? What do we learn?
So that is what happened. It was extra frightening – we said to ourselves – because it is something that simply doesn't happen "here". But the truth is that nobody expects this kind of thing to happen in their "here".
Most of us, in the Developed World, have the luxury of assuming at least a degree of personal safety in our neighbourhoods. Those of us in smaller cities, and in a country like Canada – heralded always for our relative gun safety in North America – we assume that safety is ours to claim. Forever.
So now what?
How do we deal with the break in our protective blanket of assumed security? I have two kids who are – at 11 and 14 – fully in the midst of developing the lens through which they will view the world forever. How do I help them to process this without breaking or hardening their young hearts?
I take Mr. Rogers' advice. That's how.
Social media became, and continues to be, a meeting place amidst this chaos and questioning, and that is where I found focus for healing my family, and making this tragedy make sense in our lives.
On Facebook, I saw a meme (go figure) labelled with the #PrayForMoncton tag that's developed out of this week, featuring one of those beautiful and wonderful teachers from childhood: Mr. Rogers.
It is no surprise that this man had a lesson to share with me this week – after teaching me countless lessons during my childhood.
"When I was a boy and I would see scary things in the news, my mother would say to me, 'Look for the helpers. You will always find people who are helping." – (Mr.) Fred Rogers
Well there you go. I stopped scrolling, and put my hand to my chest. My breath came in sharp and my tears fell down. "Look for the helpers", I whispered aloud. My girls looked up from the TV show they were escaping into, and knowingly curled up with me on the couch. We took a minute then to talk about the fact that there will always be helping-people, even – ESPECIALLY – in the most frightening and disheartening moments. And we felt it: the beginning of ok.
People in Moncton – all over Canada – have realized how much it takes to be a helper: to be only working to help and protect others. Other officers did too – they came from every corner to help us and to help their colleagues. At a moment when the men and women of our town who are tasked with our protection and safety are broken and hurting for the loss of their own colleagues and friends, a wave of other helpers poured into our city to help our helpers. This is a beautiful thought.
We have – as a community – begun to truly appreciate these helpers, I think. We recognize them in their strength, bravery, loss and persistence; we recognize them in their brotherhood and in their grief. We recognize them in their humanity. And we are moved.
Every RCMP detachment office in Moncton and the surrounding communities is surrounded by a swathe of flowers, balloons, handmade cards and so many lit candles that I can smell them a block away – wrapped around the steps of each office like a bandage over the open wound left in the heart of our city.
Candle-lighting memorials brought out thousands of people and ended up by necessity spread out over all offices of the RCMP in the surrounding areas and townships, because the streets surrounding the main headquarters in Moncton simply couldn't accommodate all of the thankful people who needed to communicate their support.
And then there is today. Today, our city is even more overrun with men and women from all over the country. Law enforcement officers from all over Canada  and even some from the US flew or drove into Moncton this morning. These men and women are here to be a part of a 3 km marching procession to honour the three officers who gave their life on a day like any other day – while answering a call for help.
And so after the madness ended – and a brief respite for the families to be together transpired – a full regimental funeral service will take place in Moncton this afternoon, attended by grieving RCMP officers, dignitaries, politicians, families and friends. And our community. We will be there too – looking for the helpers, and offering them our love, support and condolences.
We are scattered across our city in different public satellite locations (created by the City of Moncton to allow everyone to be a part of the goodbyes, because we can't all fit into the huge coliseum where the funeral is taking place).
We are in our homes, schools and at work too, all dressed in red to match the RCMP dress uniforms – worn by those lost and those grieving. We will be together, and we will be heartbroken as we say goodbye to three men with families and friends.
But we will also be saying thank you – a thank you that is as intense and powerful as any grief. A thank you that is beautiful and has made us all more beautiful for having felt it.
Thank you for your help – every day – and on that day.
Gratitude can translate into action
Seeing the helpers and recognizing their sacrifice is truly beautiful, but it's not enough. The thing that has been crystallized for me here is that whatever we do – at home or at work or in the grocery store – we need to do it as a helping person first. We need to refocus our actions and our motivations to one simple task: be helping.
Those of us who work for ourselves are in a position of freedom, but we are also in a position of great responsibility. My father always said to me, "With every freedom, comes an equal measure of responsibility" and I think that it applies here perfectly.
Business owners have all kinds of responsibilities that are obvious: follow-through on contracts, meet deadlines, do our taxes, get out of bed and work without a boss telling us to. BUT! Our biggest responsibility – to ourselves and to others – is to be a helper in everything we do, because we have the freedom to do so. We get to decide what we work on and how we do it, so this is a no-brainer for us.
Click to Tweet: With every freedom comes responsibility. When we're free enough to help, it's our responsibility to do so.
If we all focus our work toward the specific goal of helping, our mission becomes laser focused in one direction. Every question is answered more simply; every investment becomes more clearly necessary or unnecessary; every training becomes a more important step toward making us better at helping, or a waste of our time, and everything that we do or do not do will fall into line with what we are responsible for: our own impact on the world we inhabit – our own measurement of helpfulness.
Because if we aren't helping someone, we are failing.
I will be back next week, with more writing advice and tips. I do hope that what I do here is a helping thing, but today, I simply had to stop and be here with my city and with our hurts. I had to feel it and I had to communicate it, because that is what felt right for my voice.
Tell me please about any kind of helpers you feel grateful for – and the help they've given you. Let's take a minute to appreciate that aspect of humanity, together, shall we?
Thanks!
xo

---
You mad? Excited? Have a perspective to share? Please do!
Want to read more? Check out these recent articles.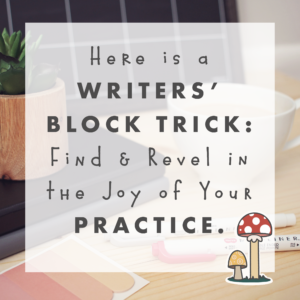 Scene: you're at your desk, hands dancing over the keys. Click clack clickity clackity click clack – swish. Now, layer that satisfying typewriter sound with a movie soundtrack in a major key – both invigorating and also somehow relaxing. The victory song – the joy of writing. There's steam dancing from a coffee cup that…