Taking Apart the Writing Process:

What does it actually look like?
Well…it doesn't really look like this layout of the insides of a typewriter, but looking at any complicated thing in pieces is the best way to make certain that all of the parts are there – and working well.
I talked a little bit about the Writing Process last week, and really alluded to how it could change the way you write forever because it breaks up a writing project into bite-sized chunks that are easier to handle, BUT I didn't tell you what those chunks were. Tricky me.
Well today is your lucky day, because I'm about to spill the beans. I'll start at the end of the process and work my way back to the important stuff we should all do *before* we start writing (most of us skip right over it, but it is *the* most important part of the whole process).
OK! Without further ado….The 5 Steps to the Writing Process, in Reverse Order, are:
5. Publishing
This is the final step in your Writing Process! Congratulations; you have completed a beautiful piece, and you are ready to share it with the world.
The logistics of this step depend greatly on how you share your words with others.
Some of us love to put our words together in a blog post, and then share it through social media, email newsletters, blog subscribers, contacts and friends.
Others will compile their writing into a book and have it published (either on their own, or with a professional publisher…at which point, lots of extra steps get involved, but let's just say that the manuscript is the publishing you personally do, in that case).
Publishing could also be the presentation of a speech or workshop, the application of lyrics to music, or it could be the posting (or emailing) of a well-thought-out letter.
It is, basically, the final step you take to get your voice into someone else's ear, and the most important part of this step is making sure that the method matches the message, and that it gets to the right sets of ears to have the most impact.
Woohoo! Way to go, Sprouts! You are done….except you're not, because we are doing this backwards.
Moving on.
Publishing is fairly important.
[wc_skillbar title="Publishing Impact" percentage="35″ color="#86c1af"]
4. Editing
This is the *only* time you should be concerned about spelling or basic grammar, and it should take very little time to do, but it is still extremely important, so that your writing comes across as polished and correct.
Some tricky misunderstandings can be avoided by editing effectively too. The difference between, "I love eating my family and friends" and "I love eating, my family, and friends" is pretty big. Nobody likes a cannibal, ammirite?
If you are unsure about spelling and basic english grammar, you are in luck! I plan on making some sentence structure checklists and common misspellings posters in the near future, so keep your eyes and ears open.
Editing is an important step. Don't skip it, or you'll be likely to embarrass yourself.
[wc_skillbar title="Editing Impact" percentage="45″ color="#86c1af"]
3. Revising
This one's a biggie! After you have your post (or letter, or song, or whatevvvvver) finished, and you leave it aside for a few hours or even a few days, you get to go back to it and tear it apart! Hooray!
You actually don't need to tear it apart, and chances are that you did your prewriting reeeeeally well, so this step will be minimal, BUT there are some key things that you should do before you move on to the final polish of editing.
Check this list before you're done revising:
Are all of your important messages clear? Can a reader tell what you really want them to do, think, or feel? Double check your outline, and be sure that you kept to your points, and that they are clearly expressed.
Did something sneak in there that doesn't belong? If you got a little bit sidetracked from your points, now is the time to CUT CUT CUT the crap.
Are these messages in the best order possible? You can shift the order of your ideas if the transitions seem wonky (this requires pretty extensive plastic surgery, so try tweaking your transitional phrases first). Make sure that you are leading your readers along a sensible path that feels natural and brings them to your conclusion seamlessly.
Is this in your voice? Read your piece aloud and change the bits you stumble over, or don't sound genuine to you. April Bowes-Olin gives great advice for this one. She does the "friend test": if you wouldn't say it to a friend of yours, it's not in your voice. Be aware, though, that the purpose of what you are writing and the audience to whom you are writing could shift your voice a little bit. Just remember that you should sound like you. Be Genuine!
This step can be hard, but it's definitely important. I remember meeting with my thesis advisor and being devastated about all of my "sentence babies" she forced me to kill, but she was always right. If it isn't there to support your purpose and connect to your audience, it shouldn't be there at all.
This step is REALLY important, if you want to have impact on your readers.
[wc_skillbar title="Revising Impact" percentage="55″ color="#86c1af"]
2. Drafting (This is the ONLY step that a lot of writers take…and it hurts a lot, but it shouldn't)
Drafting should be easy and feel FREE. You may think I'm crazy, but it's true. If you do all of the steps – ONE AT A TIME – you will feel like this is a piece of cake. It's when you just open your mouth and say the things you want to say – in the order you already decided on, and without worrying about pesky things like spelling or grammar. Just go with it.
Things you should do during Drafting:
Follow your outline like it's a map – – – Don't get lost!
Write sentences that will communicate each of your points, and fit together to make a nice smooth path for your readers.
Use all of the things you put together during your Prewriting step to help make it flow (Be patient! I'm getting to it!)
Chill out!! This should be the most satisfying part of the experience for you. It should feel like you are exhaling a deep breath you have been gathering, and there should be NO pressure-y expectations. You have tons of time to take care of the details later. Be patient; relax, and just let it out.
Things you should never do during Drafting:
DON'T Edit spelling or grammar. You will totally derail your train of thought if you stop to correct these piddly things. You have a WHOLE STEP for that later on.
DON'T Jump in without support. You should NEVER start at this step and expect yourself to just catch up and do all of the steps at once. The work you do in Prewriting, and the tidy up that you do in later steps happen separately for a reason: if you saddle yourself with all of that work at once, you will miss important points, put things in illogical order, add in random or unimportant details that distract your reader, and SUFFER. Stop it!
DON'T Judge yourself. Cut it out, people! Don't judge this whole thing and your abilities as a writer based on what's happening in this step alone.
DON'T give up. Just follow your outline to the end; you will get there! And then you will put it away for a bit, and come back to polish it to a beautiful shine.
This step is obviously huge. Make sure you prepare yourself for it, so that you can do a great job.
[wc_skillbar title="Drafting Impact" percentage="65″ color="#86c1af"]
1. Prewriting
HOLY SMOKES!!! This is the *absolutely, positively, categorically* MOST important step of all of the steps. Ever.
This is when you do all of the thinky-pants stuff that will make your writing *so* interesting to your readers, and so easy to follow, that they want more and more and more, and they keep reading to the end.
I am going to keep talking about this step for a while (SERIES!), because it is so important and so misunderstood, but for today I will give you a handy checklist of things you should accomplish during this step.
*HINT* I will be going in to each of these things further in other posts; have no fear!
Name your audience and purpose.
Come up with the best idea(s) for your audience and purpose. BRAINSTORM!
List and expand on your most important points to help explore your idea(s) with your audience. This is a good time to do a little bit of research (and more brainstorming): find out what other brilliant minds think about the subject. Learning is always good! And remember to write down the source of any amazing quotes you would like to include in your writing piece.
Choose the best medium to express your idea. You could do a list post, a video post, a narrative, a persuasive essay, a podcast, or even an interpretive dance! There are countless ways to express ideas. Pick the right one for your audience, purpose and idea.
Make a Word Bank. This may seem odd, but create a list of words you use to describe whatever ideas and subjects you will be writing about, or make a list from research you have done, and then attack those words with a thesaurus, collecting the most delicious words related to the topic. Make sure that you know the word well enough to use it though; there is almost nothing worse than a thesaurus word that doesn't quite fit. Just the act of exploring words and writing them down will make them more accessible in your mind, when you get to Drafting.
Create an Organized, Categorized Outline. This is your roadmap, and you will follow it during drafting. It keeps you on track and it frees up your creative mind to express yourself comfortably and without judgement. DO IT!
Don't skip Prewriting! Ever! Never-ever-never! This is the most important step.
[wc_skillbar title="Prewriting Impact" percentage="95″ color="#86c1af"]
That's it, friends! Those are the five steps to making your Writing Process make more sense. Like I said, I will go into them each more, as we go, but I wanted to start you all off with a picture of the *whole* shebang before I start getting really specific.
Don't forget to subscribe to "Keyboards and Kickstands: Writing Tips with a K" at the top of the sidebar, to get notices of every new post and special worksheets and exercises, as I make them available!
Comment below if you have any tricks for coming up with fantastic ideas to write about, and please share this post with a friend you know who loves to (or has to) write.
Thanks, friends! Until next week, Write on!
K
[wc_divider style="image3″ margin_top="" margin_bottom=""]
You mad? Excited? Have a perspective to share? Please do!
Want to read more? Check out these recent articles.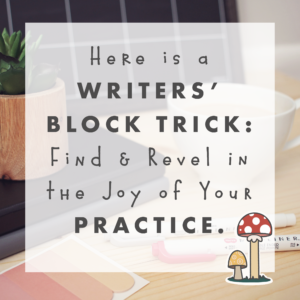 Scene: you're at your desk, hands dancing over the keys. Click clack clickity clackity click clack – swish. Now, layer that satisfying typewriter sound with a movie soundtrack in a major key – both invigorating and also somehow relaxing. The victory song – the joy of writing. There's steam dancing from a coffee cup that…