"I have a great story, but I'm just not a Writer!" | Kris With a K | Writing Coach
I've heard this from too many intelligent, well-spoken women over the years.
And it drives me bonkers, because you ARE a writer. You may not be a professional writer; you may not even be a proficient writer (yet), but you are a writer.
Writing is simply the act of communicating with words on purpose. The rules and tricks and process that will take you from that to being a great writer are totally learnable. If you can think and speak, you can be a writer.
So what are you really saying when you tell me you aren't a "Writer"?
You're saying that you aren't a pro – that magic fairy pixie dust didn't hit your notebook and pens while you slept, and that writing is hard for you. You're saying that you aren't ready for people to expect writerly things from you all the time, and you're saying that you aren't perfect.
Fair. I'm not either, kitten.
I make mistakes all the time! I make spelling and grammar errors; I miss typos and autocorrect goofs, and I miss blog deadlines. I'm not perfect, but I AM a writer. I'm also learning all the time, because learning is my jam!
Finding and embracing opportunities to learn new things makes me feel really good, and I value it highly in everything I do, though I haven't always embodied that value system in my own actions…but more on that later.
For now, let's focus on Writing, shall we? 
I don't want you to compare yourself to me, because even though I make mistakes, I am a professional. I've been at this writing-game for a while.
I've had years of experience, education and training to be a writer and an educator, and writing happens to be something that comes relatively easy to me compared to…say…dodgeball, or accounting.
And comparing your skills in any area to a professional (or experienced or talented amateur) in that area, is just not fair. It poisons your learning process and shuts down your growth.
There's a quote I like on Pinterest. I've seen it attributed to Kelly Clark Lewis more often than other names…but these things are hard to be certain about, and it warns about this comparison poisoning thing really well.
Don't compare your Chapter 1 to someone else's Chapter 20.
Regardless of who actually said it first, or what Chapter 20 you're secretly dreaming about, the meaning behind those words is very powerful.
If you compare yourself to someone else who has been struggling along the same road as you for a longer time, you'll fall short.
If you compare yourself now to yourself later, you'll fall short.
And when you fall short, you give up. That's when you feel the need to say, "I'm just not a writer" so that you can stop disappointing your totally unfair expectations and avoid facing the thing that's hard. You can give up that way, and hide behind it – using it like a shield of mediocrity.
Click to Tweet: You're not a mediocre person – you're a beginner! Embrace it, find freedom in it, and use it as an opportunity to grow.
There it is, kitten. Let your beginning be a beginning. It may seem counter-intuitive, but the sooner you embrace your beginner-ness, the sooner you will feel the freedom of it and start to grow into less of a beginner.
I'm going to level with you. I have a major issue with this myself, and it's destroyed opportunities that I've had to learn and grow.
STORYTIME!
When I was in high school, my boyfriend was a cowboy. I'm not kidding; I dated a guy whose family owns a large and successful horse ranch in the country. He was a legit cowboy…he had the hat and boots to prove it, and his summer job was "breaking stallions".
I didn't know anything about horses, myself.
My family was a first-generation "from away" family, so we didn't have the country-kid background that a lot of my classmates had.
My dad was born and raised in Toronto. His dad worked on the railroad before him, and dad is now a retired engineer and college instructor. My mum is a retired school-teacher from suburban Nova Scotia, and her mum was a travel agent in the age when women didn't tend to travel the world alone or have professional careers.
They weren't farmers or horse-ranchers.
While I was dating the cowboy, I turned down learning opportunities over and over…because I didn't want to be a beginner.
He offered to take me out on the beautiful coastal trails on his family's ranch. He offered to teach me all about the wonderful animals his family lived with and cared for. He offered me an entirely new perspective on my home, and a window into the care and understanding of an animal I will forever be intrigued by.
And I turned him down. Again and again and again, I said no to these opportunities for learning and growth, because "I'm just not really a horse-person".
WHAT? Who's not a horse person?! They are beautiful and mysterious and everyone secretly wants to ride off into the sunset on one. I was full of crap, and I was making excuses.
In reality, I was scared. I didn't want to show my beginner-ness to him, and as a result I am still a beginner. Worse? I'm not even a beginner; I'm a non-starter. If I had sucked up my pride and just let him see me not knowing, I would be better for it.
I turned away from learning out of pride and fear of failure.
And it's a HUGE regret.
If you learn anything from this story, learn this:
Click to Tweet: There is absolutely NO shame in being a beginner. There is shame only in never beginning.
If you have a story or a message to share, you have to start somewhere. You have to let yourself be a beginner and start to learn and practise the skills that are the foundation of the craft of Writing.
Then, and only then, you can grow. You can work through your beginner-ness and find your Voice in your own experiences, personality and personal writing process.
And you can start to call yourself what I know you are about to become: A Writer.
Comment below about a time you've been afraid of being a beginner or a learning opportunity you've missed out of fear or pride OR tell us how you shake that pride and jump into learning a new thing.
xo
You mad? Excited? Have a perspective to share? Please do!
Want to read more? Check out these recent articles.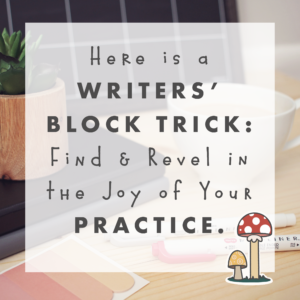 Scene: you're at your desk, hands dancing over the keys. Click clack clickity clackity click clack – swish. Now, layer that satisfying typewriter sound with a movie soundtrack in a major key – both invigorating and also somehow relaxing. The victory song – the joy of writing. There's steam dancing from a coffee cup that…