Find your Great Big Why | Stop Planning-Just-Because; Start Dreaming on Purpose
So why did you start your creative work in the first place?
There are a lot of different answers to that question.
I know. I've heard em all.
I ask my clients this question all the time, and they give me a wide variety of answers: they lost their job, had kids or moved to a new city; they needed an outlet for their creativity, or they needed to pay for the supplies for their creative outlet (Hello, Briana! I'm looking at you kid).
I started focusing more on my creative work because of my health – and because my kids needed me to be more flexible and available to them.
Maybe you have a different "surface" reason for starting your business. There are a million different reasons to do it, but the real reason we all made this crazy leap is far more prevalent than we might originally guess. It's downright typical, as a matter of fact.
We started our own business so we could have control.
Some of us more than others, perhaps. You might be raising your hand and singing "Yes, Kris!" at me right now, or you might be just nodding a thoughtful, "Hmm…maybe".
But at the root of the whole thing, control is almost always the biggest initial factor.
Maybe you need to control the hours you are available to work,
or the place you work from,
or the number of hours you work every week,
or the kind of work you do,
or the people you do your work for…
or all of the above (that'd be me).
Whatever you choose from that list, I hear you. Creative and Service-based business owners have a lot in common. We have all realized at some point that this thing that's happening right now is our life.
This is it, kitten.
And if we don't take control over the things that are most important to us, we will miss out on the best parts. So we all took the leap and decided to create it all according to our own dreams, right?
It's so amazing that we get to be architects for our own biz-castles. We get to imagine, design and build them. Then, we get to live in them every day. Who wouldn't love that?
But we get caught up in the day-to-day tasks and needs of our lives – and our businesses – and we lose sight of our big dreams of an amazing castle of accomplishments.
The greatest freedoms in life come with even greater responsibilities.
That's something my Dad often said to me while I was growing up. It's also something I say all the time to my own kids – especially when they come home late and I'm about to ground them a little bit.
Apparently, Superman also says something like it "Don't quote Superman at me when you are really just about to ground me, Mom!" It's a good piece of advice. I stand by it.
It's also super empowering for business goal setting.
You get this freedom to control the key pieces of your life, as a business owner. You also have the responsibility to yourself, and to your community, to make those design-choices with more than just your day-to-day life in mind.
[click_to_tweet tweet="You have freedom to control your daily life. You also have the responsibility to make it count for more." quote="You have freedom to control your daily life. You also have the responsibility to make it count for more."]
Some people call it legacy, some might call it your higher purpose. I call it your "Great Big Why".
We have a lot of little reasons why, but the thing that matters most should be your Great Big Why.
I talked about this a bit, when I wrote about exploring your Signature Story a little while ago. It's really the most important thing for you to identify before you begin your Brand and Business Planning for 2015.
Here's what I want you to do this week:
I want you to conduct the Toddler Test to find out what your Great Big Why really is.
Get out your journal, kitten; It's homework time!
Ask yourself why you started your business or blog in the first place, and list all of those practical things that started the process. You can include "Pyjamas at work" as a key reason. I did.
Then ask yourself what you love about your business or your writing life. This can be tricky, because sometimes we end up doing a lot of stuff to support our creative work that we don't actually love. Pick the stuff that makes you sing and dance in your living room, and write those things down – even if it's as simple as sending cute thank you notes to clients or writing in sticker-covered journals.
Ask yourself why you love that stuff. Write it down.
Then ask yourself why again. This is when the toddler part comes in; we never get the real answer on the first why; that's why little kids don't give up after you answer them once. Look at your first answer and ask yourself why you love that. Write down the answer to that too.
For example: If I said I love meeting with my clients and talking about their dreams, I would dig deeper and say that their excitement about their businesses keeps me excited about my own, and that's why I love talking to them.
Now ask yourself why again. And write down that answer.
For example: My next why would be that I need to have newness in my life to stay really excited about what I'm doing, and helping other women feel confident and excited in their businesses feels new and exciting to me every time.
And again and again and again, like a toddler who really just wants to know why everything is anything. Ask yourself and write down the answer until you either pass out, or you hit a place that feels real and intimate and Great Big.
For example: Seeing other women go from not believing their Voices are legitimate or important, to shouting their stories from the rooftops makes my own Voice feel stronger…and it could go on and on until…
That's your Great Big Why.
Or it's a huge, flashing arrow sign pointing at your Great Big Why. Explore it. Poke that bear until it turns around and roars at you.
It can be tough sometimes, and it can be painful to get into, but it is the single most important thing for you to know in order to keep pushing yourself through your biz-troubles when they feel bigger and badder than you – and to do the things that really matter to you.
[click_to_tweet tweet="Your Great-Big-Why is bigger and badder than the biggest and baddest biz-troubles you face. Use it." quote="Your Great-Big-Why is bigger and badder than the biggest and baddest biz-troubles you face. Use it."]
I wrote a post about one of my Greatest Biggest Whys a while ago. I followed the Toddler Test, myself and this is where I ended up. I knew it was for real when I had tears hitting the keyboard.
That's generally a good indicator of the Great-Bigness of your Why.
Now that you know the root of your Why, you can easily judge which goals and dreams need your attention most.
If a goal isn't aligned with your GBW, or it doesn't support you (this is where revenue comes into play for those of us with heart-based businesses) in doing other things that align with it? That goal either needs to be tweaked or tossed, kitten.
It's wasting your Why, and that's not cool.
Alright! That's your homework. Go do it – really do it – and then come back here and join the conversation.
Why did you start your business? What are some of your smaller whys? What is your Great Big Why? Your Dreams? Your Goals for 2015? Tell us in the Comments Section below. I love hearing from you!
Share this post if you think it'll help anyone you know, pick a Click to Tweet that sings to you and tweet it, pin it to your business board and tell all your friends!
And come back next week for another post in this series on Goal Setting, Dream Making and Overall Planning for 2015.
If you don't want to miss a thing, sign up for Writing & Biz-Tips With a K and join the #30DaysWithaK free-writing challenge to find your Voice and a touch o' writerly fun – in 30 days.
There are some amazing things a-bubbling away here, and I don't want you to miss the Great Big Freebies I love to send out to the folks who have joined my community.
See you next week!
xo
Kris
You mad? Excited? Have a perspective to share? Please do!
Want to read more? Check out these recent articles.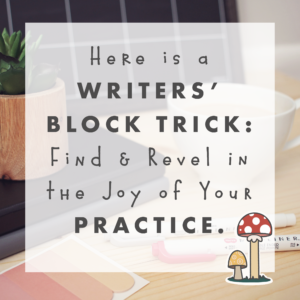 Scene: you're at your desk, hands dancing over the keys. Click clack clickity clackity click clack – swish. Now, layer that satisfying typewriter sound with a movie soundtrack in a major key – both invigorating and also somehow relaxing. The victory song – the joy of writing. There's steam dancing from a coffee cup that…