When you Finish a Project, You're Actually Building Willpower | Kris With a K | Writing Coach
It's Life Changing.
It feels good like the second-to-last bite of a big café cupcake good (second-to-last, because there's still one more bite left to look forward to, but you've had enough that you can slow down and savour it).
That's good, Kitten.
Looking at a creative project that you've completed – especially a long, difficult one that you didn't always know you'd complete – is an amazing feeling.
It's never exactly what you expected it to be – sure – but it's done. And it's yours. And it's DONE! Like we always say: Done is Better than Perfect!
And sometimes, it gets really darn close to perfect too. When that happens? It's time to cue the trumpets and have yourself a parade, because that is something worth celebrating.
In fact, go get a cupcake too! What's a celebration without a cupcake?
But that feeling isn't even the best part of following through on your plans.
When you complete a difficult task – the kind that lead to giving yourself a lecture or two (see last week's post about self-lecturing…ahem…pep-talking) – it is believed to actually change the way your mind works.
Yup. Brain stuff!
I did a little reading about willpower while I was building worksheets and planning programs for my clients, and I found this tidbit on the APA website:
[wc_testimonial by= url="" position="left"]In 2011, 27 percent of Stress in America survey respondents reported that lack of willpower was the most significant barrier to change. Yet although many people blame faulty willpower for their imperfect choices, it's clear they haven't given up hope. A majority of respondents believe that willpower is something that can be learned. Those respondents are on to something. Recent research suggests some ways in which willpower can in fact be strengthened with practice.[/wc_testimonial]
Oh Mama! We totally do that, right? We blame our lack of willpower for each of our flops or our I-give-ups, as though we are faulty and broken. We talked about this last week, didn't we? About how we aren't flawed and broken people in a sea of magical-doers.
There is no secret ingredient that you can put in your tea to make you a SUPER-POWERED doer who never falters and always finishes her projects, BUT there is hope. We can strengthen our couch-potato-willpower by using it more…especially when things are hard.
Click to Tweet: Every time we fail – and then get back up – we build our WillPower muscles…so GET BACK UP!
Practising resilience now builds your ability to be more resilient in the future, AND finally succeeding at a task that has involved failure and re-trying, actually makes you more apt to do so again.
And that leads to momentum – and then more completed projects – and then MORE willpower.
It is an awesome thing!
Massive Willpower muscles will help me say no to a second cupcake, but how will it help my Biz?
Oh, Kitten. It will change everything. Every. Single. Thing.
You will be able to show your integrity every time you follow-through with a project, plan or promise.
Your clients and customers will have more and more trust in you and your word.
Your projects will get more ambitious, exciting and amazing.
Your laundry will get folded…like the day after you washed it, instead of a week later.
You will clear out the icky tasks that bog you down and live on your shoulders, so that you can spend more time doing the creative work you love.
You'll do more of the yoga/running/quilting you promised to yourself last month (I know…the New Year's Resolution is still a hanging shadow in my home too).
…and the absolutely MOST important thing that developing your willpower through resilience and small successes will do for your business?
It will make you feel proud and good-enough and like the legitimate business owner that you are.
So every time you face a project and it feels like it's crumbling around you, think about the ways you can turn it into a success (I recently wrote a post about what helps me. Check it out, if you're struggling).
Take your successes when they come, Kitten!
Take the big ones, and the small ones, and hold them up until they catch the light.
These are the things that will float you when you flounder (because you will, even if you have an iron-strong will), and they will energize you when you feel like a walking pillow-tester. Success is like eleven cups of coffee for an exhausted mind. Fact.
And if you are floundering right now? Step back from the mess for a minute and do this thing: Remember the things you've done. Remember the hardest successes you have won (even the ones that didn't come with a parade), and taste that cupcake again.
It's yours. You made it. EAT IT UP!
Now I'm hungry…I gotta go…uh…bring the kids to the coffee shop.
But I'm only going to have ONE cupcake – because I'm working out my willpower.
Check out my VIP Days to see how I can help you Plan your Brand – and follow through.
xo

You mad? Excited? Have a perspective to share? Please do!
Want to read more? Check out these recent articles.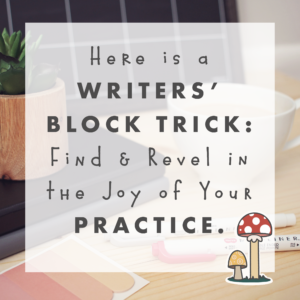 Scene: you're at your desk, hands dancing over the keys. Click clack clickity clackity click clack – swish. Now, layer that satisfying typewriter sound with a movie soundtrack in a major key – both invigorating and also somehow relaxing. The victory song – the joy of writing. There's steam dancing from a coffee cup that…