I haven't written a blog post in 2 weeks, guys.
And I know that everyone who is anyone says that I shouldn't mention that in case you didn't notice.
But I'm going to anyway, because even though it brings me further away from my editorial calendar, even though it's not according to the plan, and even though it will cause you to notice my imperfections?
That's kinda the point this time.
We've been talking about how blogging for your business can be totally accessible to everyone, and that YES you do have time to do it effectively (the irony does not escape me here), and I asked you what was the worst thing about blogging for you.
*If you want in on that conversation, go check out this post and tell me what you really hate*
The biggest complaint I heard – by far – was that blogging regularly simply takes too much time, and I get that! Obviously.
I hate the fact that I sometimes have to sink a whole day into one blog post, and it makes me crazy how much time I have to spend away from the work I want to do with clients to do it, but I realized this week that I miss sharing my Voice with you here, and I realized too that time isn't the biggest villain that keeps me from doing it.
Perfection is. The idea that if we are going to step forward as an expert in our field and educate, inspire and empower our readers…we have to have it all figured out and labelled and sitting on a perfect shelf in a perfect box with a perfect label.
And that's a load of crap. Because nobody can do all of that, and still remain human. Not all the time.
So no, I'm not going to pretend that I didn't just take 2 weeks off from blogging (Read: took on too much work at the craziest time in my family's year and then had extra life happen…because that's what happens to humans with lives including other humans).
I'm not going to pretend that it didn't happen in the middle of a blog series all about how you too can get a handle on your blog "just like me" and feel good about the blog you contribute to each week.
Instead, I'm going to put a big ole blinking arrow here, pointing to the fact that I have bumps and lumps and make mistakes too, so that you can recognize yours as a part of the package.
Click to Tweet: If you're going to #ShareYourVoice with the world, sometimes it's bound to crack & that's beautiful, kitten.
It's beautiful because it shows your humanity. It shows you are a vulnerable, real human being who is trying to give something genuine and real to the world you care about. And that sometimes you fall short of your own expectations.
But can I ask you a question?
How many of you noticed that I didn't send you a post last week or the week before and then immediately decided that I'm a useless hack you never want to hear from again?
Right.
I hope that not many of you felt that way, because that would be ridiculous, right? You can see it clearly when it's framed around someone else's imperfection…but it's hard to swallow the fact that your mistakes aren't killing people.
And that's what leads a lot of us to hide from our blog completely: the fear of being seen as imperfect.
I've seen it countless times with my clients and students. You've started your blog and even felt some real success and joy from it…and then you missed a week.
Or you wrote a post that wasn't eaten up in the same way as your others.
Or someone wrote a comment about your typos or grammar mistakes.
Or you read someone else's post on a similar topic, and it was so much better than yours.
Or you just got tired and felt like you had nothing left to say…
And then you…Just. Stopped. Writing.
Because you failed! You failed to reach some arbitrary measure of success that you gave yourself – or you failed to reach a well thought out goal you set.
Either way, perfectionism is the single most paralyzing factor in a lot of creative people's lives, because we're really great at something – which leads us to feel like we should be really great at everything – right away, all the time, no matter what.
We can't be that though – and we don't have to be.
Being a real person – with flaws and all – makes real, genuine connections. It's a magical leveller that connects me to you, because I understand what it feels like to be a human.
Click to Tweet: Don't hide from your mistakes! Learn from them. Glory in them, and share them.
Look at your mistake or misgiving and name it.
Tell yourself what you want to learn from it (don't schedule a huge course to span over the transition from the school year to Summer vacation). Apologize if you should, without making empty excuses out of pride.
And then MOVE ON!
Avoid picking yourself apart and apologizing for things you don't need to apologize for. Stop judging yourself by some imaginary measuring stick meant only for heroes and saints. Stop running away and hiding when you feel like you didn't measure up, because what you give is worth more than a gold star for perfection.
So this is my mea culpa, kitten. This is me apologizing for not doing what I promised, and telling you that I'm back on the horse that kicked me off and our blog series will continue next week with the post I promised about creating images for your blog without paralysis.
If you don't want to miss any of this series, or any other Writing, Blogging and Branding tips I share – sign up to receive posts (and free printables and fun news) in your inbox each week – With a K. Put your name and email in the green box in the sidebar, above my big ole face, and I'll send you all I've got…even when it's not perfect.
xo
Kris
You mad? Excited? Have a perspective to share? Please do!
Want to read more? Check out these recent articles.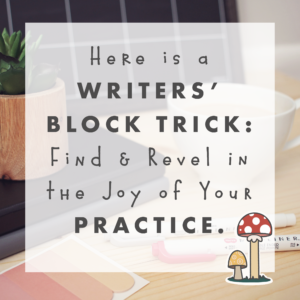 Scene: you're at your desk, hands dancing over the keys. Click clack clickity clackity click clack – swish. Now, layer that satisfying typewriter sound with a movie soundtrack in a major key – both invigorating and also somehow relaxing. The victory song – the joy of writing. There's steam dancing from a coffee cup that…