You're Not too Busy to Blog
We're all busy. You're Busy; I'm Busy; Everybody's Busy-Busy.
Personally, I think that "busy" is just another 4-letter word. We all have the same number of hours in our days, and no matter what shows up, we manage to fill them with something.
When my two kids aren't home, those hours still zoom by. I don't suddenly have all of the leisure time in the world, and I don't magically find the time to complete all of my To-Do-Someday-List items, just because some of my busy-ness isn't there.
I honestly just spend my extra time in my sweatpants in front of Netflix, eating junk food and talking to my cats…but that's another story.
Because, even though I don't have the extra work of taking care of two other humans, I also don't have anybody here looking at me and saying things like, "Can you at least get dressed before I come home from school, Mom…in case I have a friend with me or something?"
My priorities shift, and I make different choices as a result.
You see, I manage to fill my hours – even when I don't have the long and impressive list of Busy-Credentials to blame. I fill my hours with things I choose to prioritize, or I fill my hours with procrastinating and ignoring the choices I need to make.
Oh yes. I see you.
Facebook? Twitter? Instagram? Cat videos? Hahaha. Nice try, kitten. Those hours are not as necessary as you think, and they don't preclude the time it takes to maintain a blog (except maybe the cat videos?).
Because they aren't nearly as valuable, lasting or effective as Sharing your Voice.
I already talked about the 5 biggest reasons behind my belief that you need to be blogging for your business in last week's post: Bloggers gotta Blog…but sometimes it sucks. I also talked about the 5 main reasons it sucks, and I asked for your feedback. Having time – or not having time – was the biggest complaint I heard. By far.
But seriously – you need to make time for this one if you want to have an effective online marketing plan. You just do.
If you want to have a community of fans and listeners, you need to consistently give them what they want online: Education, Inspiration and/or Entertainment. You need to talk to them about things they care about and that align with what you are offering to the world, and you need to do it often.
Because sharing other people's stuff on Facebook, or putting someone else's quote on a great photo in Instagram? Those things won't develop the kind of trust that a consistently helpful, entertaining and motivational blog will do – one written in your voice, and along your brand's message.
End. Of. Story.
Except it's not the end of the story because beyond the power of the community you build with your blog, you will also get to control how it unfolds.
Which – to me – is extremely important. I'm a total control-freak (just ask my teenage daughters), but I think that in this case it is really valid and important.
Take a look at Facebook: how many businesses focused all of their online marketing efforts there for years – and benefited for a long time for free – but are now stranded because Facebook owns Facebook, and Facebook changed the rules?
I mean, Facebook absolutely has the right to change the rules.
We were camping out on Facebook's couch for years, paying no rent and inviting all our friends over to visit. I'm surprised they didn't make a big change ages ago. They totally have the right – because it's their house.
Click to Tweet: If you want to control your message, you need to get off of Facebook's couch and set up your own house.
When you have a blog set up, and you are actively participating in the conversation around your industry, you get to control the message; you get to choose the parameters, topics, and tone. You even get to decide who can add to that conversation and how they do it in your own comments section.
Then you can use it to populate your social media streams too – with your message! Not someone else's words, in a pretty font.
And when you have a solid email list going, you can make sure that your message continues to get to the people who have asked to receive it. When you want it to get to them. In the format you know they love.
It's a remarkable place of power, and it is worth the time you need to take in order to do it well.
Ok Ok Ok! I know I'm preaching a little bit, but it's all true, and you know it. The trust and expertise that comes from maintaining a good-quality blog, and the control and power you get to retain when it's on your own platform? Priceless, kitten.
And it's possible to do it well – even when we are in the middle of the Busy-Olympics and haven't a square of time to spare.
I promise!
I've been running track at that same Olympics with you, and I've taken home my fair-share of gold medals. I'm not bragging, because those gold medals no longer are a point of pride to me. They're heavy and uncomfortable. It is a true story: I have done busy, my friends, and I'm over it.
Over the next 6 weeks, I'm going to explore the best ways to slim down your blogging processes – with some of my best online buddies (because I don't have all the answers, but you still need em).
I'm confident that we can all make this blogging thing work better in our lives, because talking about it and exploring it? That's the best way I know of to take a big, scary thing and knock it down a peg or two. Amirite?
The secret to making your blog work within your already busy life is found in using Systems that work and designing Plans you can follow.
Next week, one of my favourite bloggers (and my accountabilibuddy, heaven love her), Sarah Shotts from Love Letter to Adventure, will be here with me. We are going to talk about something that A LOT of you have asked about: managing your blog images.
Yup. It's a prickly pear for sure, so we're going to talk about the best workflows we've found for creating, storing and using images for our blogs. Sarah does this extremely well – no surprise, as she's a photographer, videographer and makes a mean watercolour illustration.
I'll share with you some of the new SUPER amateur tricks I've started to use to up my instagram game, and how I make images a non-issue on my blog as well.
Over this series, you'll be able to see how using systems and plans can actually foster more creative work, and alleviate the busy-ness paralysis our poor creative-thought-muscles often get. You'll learn what plans are most helpful and necessary, and you'll probably get a free printable or two to help you – because that's how I roll 😉
I'm putting this all together for you, because I know how hard and intimidating and paralyzing blogging can feel.
But I also know how satisfying, effective and manageable it is too. I want you to be able to see the same kind of growth and excitement I have seen since I started this blog – just over a year ago.So I'm laying it all out and offering it up for free to help you smash through whatever is holding you back from taking the leap – or up your game if you're already in on the blogging adventure, but need a little juice.
I'm really excited about exploring the topic with you, and I can't wait to hear from you too. Tell me in the comments below how you feel about blogging: do you love it already? or have you been hiding from it for ages? Don't be shy!
See you next week!
xo
Kris
You mad? Excited? Have a perspective to share? Please do!
Want to read more? Check out these recent articles.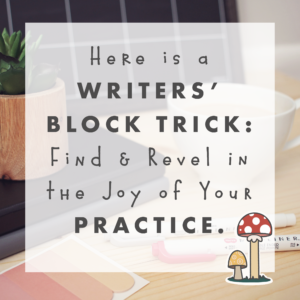 Scene: you're at your desk, hands dancing over the keys. Click clack clickity clackity click clack – swish. Now, layer that satisfying typewriter sound with a movie soundtrack in a major key – both invigorating and also somehow relaxing. The victory song – the joy of writing. There's steam dancing from a coffee cup that…