Tuesday Tips | Real Life Storytelling Strategies for Small Business Owners
Nobody told you when you opened your business that you would have to learn how to write effective stories, but good storytelling is the best way for you to connect with your people and communicate your genuine marketing message to them effectively.
It's also a great way for small business owners like you and me to find the right message to begin with. Truthful and effective brand identities often begin with a great story. In fact, if you answer some leading story-building questions honestly, you might be surprised by what you what you really want your business to stand for.
It could be a turning point for you and your business. No joke.
Asking the right questions – and answering them honestly – will help you find your Business' Signature Story:
1. Why do you do this, instead of say raising wild turtles for sport?
If you don't know the answer to this one, you have some serious splainin' to do. Not many people start a business because they had nothing better to do – and if they do, they don't just choose an industry at random.
What do you love about what you do? Are you drawn to something about the art or service you provide? Is there a greater cause you feel you can help by doing this thing? Did you have a mentor or did someone you love pass the skills or tradition on to you?
What kinds of experiences have led you to doing what you do instead of any of the other wild and wooly things you could be doing?
There is always a really good "Why" for small business owners. You may need to work a bit to articulate it, but I think we can all agree that it's key.
I do what I do because I want women to feel great about sharing their real voices with the world – proudly. I love the new confidence in women who realize their stories are significant and amazing, and I love being a part of sharing them.
2. What will force you to continue, even during the dark night of your small business' soul?
Because you will have some dark nights kitten, and your clients need to trust that you won't get going when the tough stuff hits the proverbial fan (you probably need to know this too, because you will need to remind yourself at some point).
This one might even help you articulate your first answer even better. Both answers are related to the passion that leads you to do what you do – the thing that will make you more magnetic, trustworthy and exciting for your clients to work with.
3. Think of the moment you realized that opening your small business was possible – that you would take the leap and make your own life. Describe it according to your 5 senses.
Just that. This turning point will tell you a whole lot about where your story wants to go or where it should come from.
I don't want you to go into great detail about losing your job or getting sick or being hit with a childcare situation you couldn't fix and keep working for someone else. Those are reasons you stopped doing something.
I want you to think about the moment you realized you could start something even better. Yup! That one, kitten.
Now remember where you were, who you were with, what you were talking and thinking about, what you were eating or smelling and what sounds you heard around you. Describe that moment in the most delicious, slow motion close-up way you can; those details make your moment even more real and beautiful for your readers, and it inspires hella trust.
4. What about those times you tried doing something else instead?
We grow. We change. We make mistakes (oh yes we do), and we become better for having survived them. I want you to think about the things you tried before you realized that you could be the captain of your own lifeboat.
Those challenges, conflicts, crises and mistakes brought you here. They taught you things you could never have learned otherwise, and they are invaluable.
Explore those hard times and figure out what particular point of pressure cooked up the diamond that you are now. No doubt, it'll be a combination of a lot of factors; explore them all.
I had a lot of these, myself. I'm exploring them all for the book I'm writing right now called Pyjama Year about the year I started "With a K" and "Keyboards and Kickstands". I started that year in my pyjamas, under the blankets on my couch, shivering madly, filled with mortal terror that I had ruined my and my kids' lives.
*HINT* I didn't 🙂
Errrrr…That's not a whole story, Kris. It's just a bunch of answers to some questions.
I know! Be patient. Remember? You have to follow the steps in the Writing Process.
We are gathering information right now that will help you to build a beautiful and effective Signature Story for your brand; this is Prewriting in action, kittens, and it is going to be GREAT!
Rome wasn't built in a day. Jeeze!
Go grab a coffee, or a glass of wine, and curl up with your favourite notebook and pen. Have fun with this stuff and be honest. Your story will come together after you have explored these pieces of the puzzle.
And next week, I'll give you a nifty printable to help you put these tidbits into a simple story arc outline that will feel satisfying and exciting for you and your readers. Easy Peasy!
Sign up for Tuesday Tips in your inbox (the little green box in the sidebar, above my face), so you don't miss a thing.
Comment below with one of your story-building answers. I'd love to hear what makes your business such an important part of you.
See you next week!
xo
K
You mad? Excited? Have a perspective to share? Please do!
Want to read more? Check out these recent articles.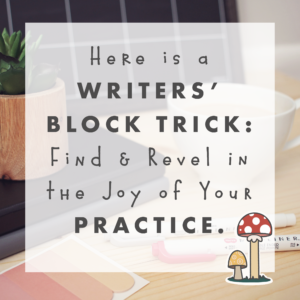 Scene: you're at your desk, hands dancing over the keys. Click clack clickity clackity click clack – swish. Now, layer that satisfying typewriter sound with a movie soundtrack in a major key – both invigorating and also somehow relaxing. The victory song – the joy of writing. There's steam dancing from a coffee cup that…