Tuesday Tips | Your Business Website Can Be a Welcoming and Effective Online Home
And You Can Write the Copy for it Yourself – Without Pulling Your Hair Out…
Or Throwing Down Major Coin for a Professional.
Last week, I talked about how we business-kittens have to sit up and face a few hard facts. Here they are again, in case you missed it:
You're not an impostor; nobody's going to "find you out",
Your business is real (like real real), and
You are the expert.
Yes, you.
So now that we have that settled, what does it have to do with your business website?
You know you need a website that communicates with your ideal clients.
You've probably heard the stats: depending on which study you read, it's been shown that 80% to 90% of consumers will do research online before making a major purchase.
I just read a specific study by a global marketing firm, published by the American Marketing Association. It surveyed 1000 American adult consumers about how they did that online research. The results show that your website is the most important place for you to develop your brand story online.
More than half of respondents (52%) said that they go directly to a company's website for branded content and product information, while 25% turn to social media, 22% go to third-party sites and 8% read company blogs. American Marketing Association
You can't just use Facebook for this anymore, ladies.
I know! Social media is super helpful, but it isn't a home…it's like you're sleeping on somebody's couch and occasionally being allowed to show up for dinner.
You can't control how often people see what you're talking about, or how your posts look; you can't even be sure that people who have gone out of their way to "like" your business will even hear about your awesome product launch they want to hear about, because – ALGORITHMS!
And because Facebook wants you to pay them for your content to be shown more often. That's their business model…which is fair, because you have been sleeping on their couch for free for years.
Bottom line? You can't control how, when or even if social media content gets to your ideal people.
And people want to go to your site to find out about you. They told me so!
Well…they told a global marketing survey, and then I read that and told you.
Either way – now you know.
Click to tweet: Get off of Facebook's couch and start looking for your own place. It's time to grow up and get your own online home.
You need an online home that feels genuine and real.
You don't want an empty shell, with an unmemorable homepage, some basic details about your industry and products and your contact information. All that website does is tell me that you exist…which is nice, but it's only the first step in the process. A website can and should do so much more.
You also don't want yet another corporate portrayal of a professional business owner – with no connection to the community you serve or the passion you followed to get there. That website tells me that you are exactly the same as all of the other options, and you stick out from the crowd about 0.000%.
You need an online home that feels like it belongs to you. You put the red chair wherever you want, kitten. Stick that awesome painting on the wall and throw your mix-matched cushions on the couch. It's your home, so it should feel like you live there.
People came to see you! If they can't find you there, they won't stay long – and they certainly won't get to know you better or trust that you are qualified and ready to help them.
What is your website for, anyway?
Ok. Let's talk about the reality of why you have a website at all. It's for marketing your business, right? There is this super marketing-y term called the "Marketing Funnel" that is a really simple way to look at it.
The funnel is basically a way to see the steps people take internally before they decide to buy from you. To completely over-simplify the whole concept, I'll say this: you want people to get to know you and like you and then eventually trust you enough to take that leap and purchase from you. Simple.
Know – Like – Trust – Purchase
That's what your website is for: to introduce you to people, encourage them to like you and then show them that you are a trusted advisor or a legitimately talented artist. It takes people from whatever part of that funnel they are in when they arrive, toward that magical place where they know that you can help them – that you will make their life better – and that they can't wait to let you do it.
Feeling that kind of trust from a client? It is amazing. It frees you to do that thing you love, untethered by second-guessing or confusion, and it allows you to offer to them exactly what they need – to serve them with your passion.
It's the reason we all took that mad leap into creative and service-based business, right?
And it's what your website should allow you to do.
It shouldn't be generic or paint-by-numbers.
Because you aren't. Nobody with your expertise, passion or bravery could be.
Your website isn't there to convince people that you are a stodgy "Business Person", because that's not you.
And it certainly won't get you the kind of clients who will make you want to sing out loud in the grocery store from happiness overload (I'm not the only one who does that, right?).
You could pay a copywriter to do the work for you. We love to do it, and some of us really focus on making sure that you shine through in what we write, but not everybody can afford that right away.
So what do you do?!
Take your mama's age-old advice. If you want people to like you and trust you, you gotta just be yourself. Be honest! One of the best things about running your own show is that you can be yourself. You're the driving passion behind your business, so you should be written all over it up front too.
Here's the coolest thing about that little nugget: you are the only person in the world who can do it. You don't have to do it alone; there's nothing wrong with asking for help, but you can totally do it.
And your story will be amazing.
I know this because of all of the clients who have asked me to help their stories come to life – through coaching, workshops and my own copywriting services. They start the process with this little kernel of doubt, hiding away: "But I don't really have a powerful story", they say. But when they know where to look, they all find the root of their passion and develop it into a brilliant signature story.
And Oh mama! Their stories are amazing. I've had some fantastic coffee dates with some pretty phenomenal women from all over the world, and every single one of them had a story that blew my mind…and often theirs too.
I have yet to meet a business-person without an amazing story of risk, a giant leap of faith and a massive passion-driven need to do what they are doing. That is the stuff of gorgeous storytelling, right there.
And it also happens to be the perfect place to start building your business brand and your website. In your story, you will find all of the building blocks for your entire business brand:
The language and metaphors you'll use to talk about what you do,
The passion that drives you to do that thing amazingly well,
The work you've put into perfecting your skills and
The human connection people search for when they go to people for services or creative and handmade products.
All of those things are right there in your signature brand story. And you are the most qualified person to tell it.
But writing is harrrrrrd…
So you don't feel like you have the confidence to attack a big writing job like this? Fair enough; it can be intimidating, but it's doable. I swear.
I work with people day after day who have little to no writing experience, and their stories are amazing!  Because their stories belong to them: they sit right there inside their hearts where they were created.
And because of that, those stories feel completely genuine. They inspire trust, and faith and connection, and you can't get that at a content mill. You can only find that stuff in a spot deep inside your own self. True story.
Sooooo how do we do this thing, then?
There are actually a few straight forward ways to structure stories in order for them to have the most impact. I happen to have a nice little list of them here, and I'll be more than happy to share some with you…
next week!
I know! I just did that.
Sorry guys, but there's no way I can tell you all the secrets today. C'mon back next Tuesday for the next in this series about creating your online home – or sign up for Tuesday Tips in your mailbox, so you don't miss a thing!
I happen to have a pretty big announcement coming up too, so you definitely should throw your most happenin' email address in that green box in the sidebar (above my face), so you don't miss it.
See you next week!
xo
K
You mad? Excited? Have a perspective to share? Please do!
Want to read more? Check out these recent articles.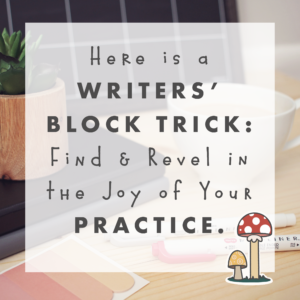 Scene: you're at your desk, hands dancing over the keys. Click clack clickity clackity click clack – swish. Now, layer that satisfying typewriter sound with a movie soundtrack in a major key – both invigorating and also somehow relaxing. The victory song – the joy of writing. There's steam dancing from a coffee cup that…