Why Write Anyway? | Scholarship Contest Blog Link-up | Kris With a K | Writing Coach
What a question!
It's one that I was asked in one of my writing classes in University, and it's one I've asked all of you to answer too.
But it's not easy.
Particularly for those of us who choose to do it, regardless of its merit as a Marketing tactic: the fools or the scholars – depending on your stance on writing as a pastime.
It's a great exercise though, and I haven't thought about it in a while. I mean…I think about what I should be writing All. The. Time. And my Great Big Why is really clear to me, but I haven't let my mind dig into the reasons I still put words together on the page and set them loose to dance.
It feels like it's time to explore it again.
The first time I addressed this question, it was a free-writing exercise: a brainstorm in sentence form. At the beginning of class, we were all asked to pull out a handful of empty pages and a pen and answer the question on the board as a brainstorm. No rules. No editing. No big deal.
After we spent 2 or 3 minutes writing and thinking about our motivations, a few of us were asked to share our work with the rest of the group. This is a typical thing to do in a healthy Writers' Workshop – to encourage confidence and to help learn how to be receptive to others' criticism and advice.
The responses were lovely.
There were lists of career-related reasons to have effective writing skills, and there were lists of reasons more related to glory and fame…
And there were lists – like mine – that included both.
My reasons for writing have changed somewhat over the years, but they remain rooted in the same need I have to connect to others, the same hope for understanding and recognition of a shared world.
…and moments of awkward humour about Canadian daytime talk show hosts (yes, there is such a thing), and elbow patches on twill.
The reaction of my classmates was wonderful! They even laughed about the elbow patches. They understood me; they felt as though I understood them. It was intoxicating.
That was the day I knew I had to be a Writer.
Though it took me a few more degrees and a whole bunch of years to realize I actually could…and still feed my children regularly.
As of May 12, 2015, The following are some of the reasons I write:
To communicate, clearly and carefully
To freeze time and mould it
To have the chance to go through moments one time and then run backwards through them again to smooth over the confusion – to perfect slowly this slippery thing of human communication
To meet people and get to know them (you)
To educate
To share the stories that bubble up and out and over again – and to connect other women with their own bubbling pots of story
To inspire
To confound, confuse and alarm —> only to – at the last moment – pull the thread that connects the things that will bring the clarity, connection and comfort that was there all along.
Trickery! And the fun of it.
To empower
I write because I can't dance very well.
I will never make the basketball team (I'm 35 and 5 foot nothing)
I won't be a famous folk singer after all – not for a lack of trying in garage bands and at Carnegie Hall – but I still *need* to share my Voice, no matter its burrs and flaws, in order to know myself and the world around me.
I write because it's necessary, and because I can.
And I write because it's frivolous and because it's impossible.
I write these days to show women how joyful writing can be. It's become an obsessive, viral thing in me – incubating and spreading – I hope – to all of you.
Thank you for showing up each week to hear the words I drop into the white space, and a GREAT BIG thank you to all of you who have spent this week thinking and writing about writing too.
If you would like to participate in the "Why Write" Blog Link-up and you haven't written anything yet, that's ok. You still have until the 18th of May to write a post describing the reasons writing has been important to you and your business. You can invite your friends to do so too:
Click to tweet: Join me in the Why Write Blog Link-up With a K and get a chance to win a scholarship to the #CraftYourVoice writing course
Then copy the following green text and paste it at the top of your post. When you've published it, you can come back here and leave your link in the comments. Each person who leaves their link in the comments will have a chance to win a scholarship to the Craft Your Voice writing workshop that I am starting on the 25th of May.
[wc_divider style="image3″ margin_top="" margin_bottom=""]
I'm participating in a Blog Link-up with Kris (With a K), from www.withakwriting.com//, because she wants to hear about the role writing plays in our businesses.
She is giving a Writing Workshop for entrepreneurs and bloggers, starting May 25th,  and she wants to give away a scholarship to one of the lovely bloggers who participate in this link up. You can participate and get a chance to win too.
Just copy and paste this piece of text into the introduction of your blog post answering the question, "How has writing been beneficial to your business, and what do you want to Craft with your Voice next?" Link back to this post, so any of your friends who are entering will be able to find it for more info.
Finally, go back to Kris's blog on or after May 12th to add your link to the link-up party there, and you could win a scholarship to her new course: Craft Your Voice. She'll be drawing a name on the 18th of May for a full scholarship to the 6 week writing course, so you can write and link-up your post any time before then.
[wc_divider style="image3″ margin_top="" margin_bottom=""]
I'm really excited to read your wonderful post, kitten! If you're struggling to write it and you haven't signed up for the free Design Your Process workshop yet you can still do that (it also ends on May 18th though, so get to it quick).
Thanks again for being here with me each week! I truly do enjoy speaking with you and helping you – as best I can.
So I suppose that answers the "Why I Write" question, doesn't it? As for what I'm crafting next? After the 6 week course I'm teaching, I have another great blogging tool I'm cooking up for you – but you'll have to wait for more on that 😉
In the meantime, keep coming back each week (or sign up for freebies and updates), because I'm still going to be crafting those too.
xo
You mad? Excited? Have a perspective to share? Please do!
Want to read more? Check out these recent articles.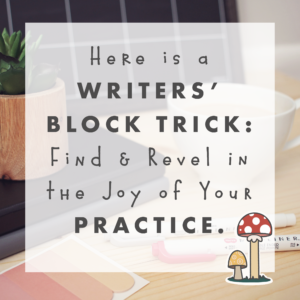 Scene: you're at your desk, hands dancing over the keys. Click clack clickity clackity click clack – swish. Now, layer that satisfying typewriter sound with a movie soundtrack in a major key – both invigorating and also somehow relaxing. The victory song – the joy of writing. There's steam dancing from a coffee cup that…