Business Owners Blog for a lot of Reasons.
We are told again and again that blogging is an important part of online marketing.
It is, in fact, often seen as the central aspect of your online presence. I definitely think that – in my own business and the businesses of many of my clients – the blog has been the engine that pushed all of the other marketing efforts we engage in.
If it didn't start on my actual blog, it's probably something that came from engaging with other bloggers and readers, or it will show up on the blog very soon. It's my sounding board, inspiration pot and soapbox – AND it allows me to talk to you every week about the stuff I really care about.
There are a lot of big reasons to blog for your business. Here are 5 of my favourites:
You can reach your Target Market in a way they love – without interruption ads or the always awkward COLD CALL vibe.
– They will come to you, kitten! The statistics that support blogging for business are staggering: Companies with blogs have 97% more inbound leads than companies without blogs, and more than half of the US consumers polled made purchases based on advice from a blog (these and more stats were found on Yahoo Small Business. Go check em out, if you still need convincing).
– Your potential clients, when they are looking for advice or answers in your field, can stumble across your blog and learn from you. Then, they are far more likely to come to you when they are ready to pay for a service that you offer, because they like and trust you already – and you already have given them value.
You can use blogging to build your Expertise
– As you share valuable and interesting information related to your field, your perceived expertise will grow.
– Another side effect (and this is an often overlooked thing, but very cool) is that you will actually learn more and become more of an expert in the process of writing really good posts for your readers.
Build Community
– I love the communities I've stumbled across on other blogs – and the one that has formed here. It's truly one of the coolest things about blogging as a medium.
– Having a vibrant and active blog-community is extremely motivating for me, as a solo business owner. I spend a lot of hours working on my biz alone, and it is always welcome to hear from the people I'm writing to each week. It can be lonely on the other side of the keyboard, right?
– Your community can inform you too! There is no better way to learn about what your people need, than to talk with them yourself and also support a forum for them to talk to one another.
Hone your Message
– The more you talk about it, the more you will be clear about what is important to you and to your readers.
– Being conscious of the words you use over time has been continually referred to by many famous writers as one of the best ways for them to find their own beliefs, and one of their major motivations for writing.

Click to Tweet: "I write because I don't know what I think until I read what I say"
~ Flannery O'Connor

Click to Tweet: "I write to find out what I think" 
~ Stephen King 
…Not a bad reason to keep writing your blog posts, right?

Build a legacy
– Over time, your posts will build up and become a library of great information for new readers and even a resource for you to offer to new clients.
– I can't tell you how awesome it feels to know that when I get common questions from new clients, I have the time to give every single one of them a great, well-thought-out answer, written in my own Voice – one that underlines the things that I truly feel are most important and educates them in a way that I wouldn't have time to otherwise. And it is as easy as giving them a link to a post I've already written. Bonus!
There is clearly value in blogging; that's not even up for debate.
What is up for debate though, is what is the best way to go about doing it – the best way to avoid some of the more irritating parts of writing a blog.
And there are a lot of those, right? These are the 5 I hear most from my clients and friends:
Coming up with new and interesting ideas to write about
– You know what I mean. If you have a blog, you've sat in front of the monitor before, asking yourself what the h$%* you can write about this week. We obviously write about our industry or field, right? So how can we keep it fresh week after week after gosh-awful week?
– You find yourself writing the same thing again and again…and again. And it is beginning to feel like your record is skipping and your readers are running in the other direction out of boredom.
Writing in a way that connects well with my reader
– I hear this a lot too. You feel like you're writing, but it's falling flat. You don't know why, but your readers just aren't into it.
Being consistent
– We commit. We promise ourselves (and our Biz Coach) that we'll blog every week – on the same day of the week. Because we know that consistency is one of the best ways to make our blogs successful, right?
– But life isn't very consistent, and nobody is actually standing in your office, asking you to hit publish. It doesn't feel as urgent as dealing with your current customers, and it's not easy or straightforward.…so your blog sometimes gets left off of the ToDo list and ignored.
Making each post effective in the moment – and over time
– You spend all that time working out what to write about each week, and how to write it in a way that will energize your readers…and then it just disappears.
– It feels exhausting to throw those blog-post-pennies down the well each week, just to have them vanish forever. What a waste!
Finding the time to write
– Yup. It takes For-ev-ER! At least it seems like it takes forever, right? I sometimes spend a whole day writing only one blog post. Is that really useful and effective use of my time?
With all these frustrations, we often forget the reasons we chose to write a blog in the first place.
The blog becomes just one of those "I should really" things in our business that only serve to make us feel like crap.
Because we aren't doing it. Right?
So I'm starting a #BlogYourVoice series this month, and I want to help you to conquer the big-bad-blog-boogie-monsters.
Here is where that whole community thing comes in: I want you to tell me what the WORST thing about blogging is for you: what would you change if you had a magic wand and could make your blog better – just like *that*?
And, if you aren't on the list for free updates, printable and blog announcements now – get on it! Don't miss a thing.
Let's get our blogs vibrant and happy – let's access those amazing blog-opportunities we keep hearing about, shall we?
xo
Kris
You mad? Excited? Have a perspective to share? Please do!
Want to read more? Check out these recent articles.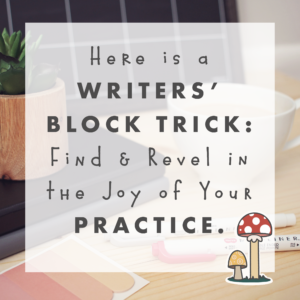 Scene: you're at your desk, hands dancing over the keys. Click clack clickity clackity click clack – swish. Now, layer that satisfying typewriter sound with a movie soundtrack in a major key – both invigorating and also somehow relaxing. The victory song – the joy of writing. There's steam dancing from a coffee cup that…